Omaha Veterinary Client Services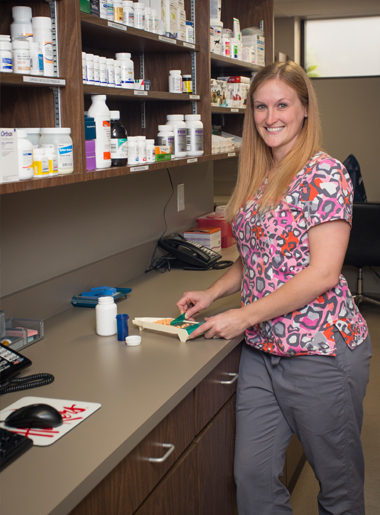 Pharmacy
As the prescribing veterinarian for your pet's medications, we are able to ensure there is a direct link between the exam room and our pharmacy. This means your pet will receive the right medication, at the right dose, in the right form as quickly as possible.
We maintain a complete inventory of veterinary pharmaceuticals, vitamins, shampoos, flea and tick control products and heartworm preventatives to meet the needs of your pet. We also carry a full line of prescription diets. If your pet requires a prescription diet we do not carry, we can easily order it for you.
Ensuring that you have convenient and timely access to competitively priced medications is an important aspect of our veterinary practice. Refills are easy, too. Simply give us a call.
Omaha Pet Microchipping
The team at Omaha Animal Hospital considers microchip pet IDs a fundamental way to protect your pet and an important part of responsible pet ownership. Each microchip registers the animal with a unique identification number, which is filed in a database with your contact information. If your pet is lost, the microchip can be scanned by animal control officers, at shelters, and at veterinary hospitals in the U.S. and in many foreign countries as well.
This safe, reliable, and permanent pet identification takes less than 10 seconds to implant and can save you and your pet days, weeks, or more of fear and anguish.
End-of-Life Planning
For many pet owners, even thinking about their pet's final days is difficult and emotional. Our animals are a part of our family. It is this strong bond, born from years of loyal companionship, that makes this time particularly hard to bear.
We encourage you to talk with our veterinary healthcare team about these issues before they become an urgent matter. Find out about your options, including our crematory services, make some key decisions ahead of time, and ask us to add this information to your pet's record. Taking the time to plan, as challenging as it may be, will lessen the pain and stress for you and your pet.
All of us at Omaha Animal Hospital will do our best to help you prepare for these important issues with the compassion and sensitivity they require.
We offer at-home euthanasia on a case-by-case basis.